Our History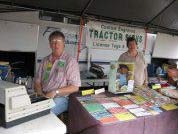 The Badge Factory, a custom engraving, and sign-making business was founded in 1993 by Bob and Marilyn Fowler. Bob and Marilyn traveled around the USA for over 15 years setting up booths at many Antique Tractor shows and events.
Their travels took them up and down the east coast, and quite a few states in the mid-west, too! They enjoyed meeting and getting to know lots of interesting farm equipment collectors and enthusiasts.
Marilyn greeted everyone with a friendly smile and helped collectors place their custom display sign orders. Meanwhile, Bob handled all the engraving orders and worked hard to make the signs look fantastic!
For many years their oldest daughter, Kim Martin (formerly Kim Fowler) helped on the administrative end while Bob and Marilyn were traveling to the shows. She took phone orders and answered questions, then relayed them to her parents. Kim would often visit them at local shows and help set up.
As gas prices increased, the Fowler's travel lessened. It was then that Kim suggested setting up an internet site so they could stay connected with friends and customers everywhere. Kim designed and created their first website and online store.
In the fall of 2012, Steve Martin (Kim's husband) attended a few local tractors and engine shows with Bob. That's where he learned the family business. While at the shows, Bob taught Steve how to set up and engrave signs.
Who Are Kim and Steve?
Kim grew up in rural Carroll County, Maryland, surrounded by rolling countryside and lots of family farms. While she hasn't lived on a farm, she has always considered herself to be a country girl. Besides that, Kim thinks trucks & tractors are "sexy"! Kim loves being part of the sign-making process and manages the administrative and customer service side of The Badge Factory.
Steve grew up on a farm and helped his family and grandparents by working in the fields, milking cows, feeding animals, and working on farm equipment. While Steve loves all antique farm equipment, he has secretly always been a John Deere fan. Steve takes care of all of the engraving and manages the Badge Factory shop.
Kim and Steve Martin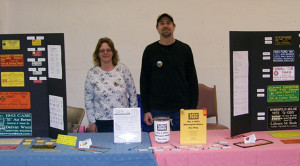 In May of 2014, Steve and Kim temporarily took over the family business when Bob was in the hospital. They were delighted to step in and help while Bob was on the mend. Unfortunately, Bob passed a month later. Steve and Kim decided to stay on to help make the transition easier on Marilyn.
By November 2014, they realized they needed to honor Bob's 20+ years of dedication to his customers and made the decision to continue the family business. Kim and Steve often hear endearing stories about Bob and Marilyn from many of their longtime customers. It was the amazing customers who made the decision to carry on The Badge Factory business easy for Kim and Steve.
Why The Badge Factory
Shortly after starting the business, Bob and Marilyn's oldest granddaughter decided the company needed a name. She came up with "The Badge Factory" and it stuck.
Over the many years of setting up at antique tractor and engine shows, repeat customers would search the show grounds looking for Bob and Marilyn, affectionately refer to them as, "The Tractor Sign Folks". That's why The Badge Factory added their tagline.
What We Offer
While they custom engrave products for any business, club, organization, or special event — they specialize in making personalized display signs, name badges, and novelty items for antique farm equipment collectors and enthusiasts.
The "Tractor Sign Folks" are known for their quality products and customer service with a personal touch. Their motto is, "Your Satisfaction is Guaranteed!"
The online ordering system is available 24/7. Products typically ship within seven business days of receipt of your order. Call with any questions, they are always happy to provide you with answers.
They welcome your ideas, suggestions, stories, and even digital photos of your prized antique farm equipment. They will do their best to include them whenever they can.
Thank you for visiting our site online!
"The Tractor Sign Folks"
Kim & Steve Martin