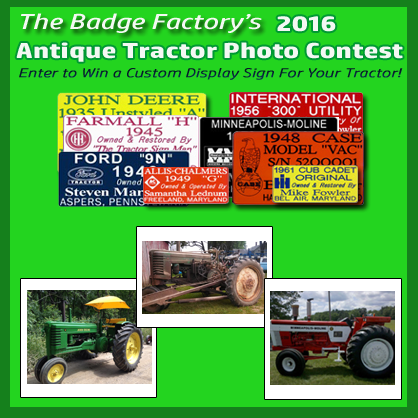 2016 Antique Tractor Photo Contest
sponsored by The Badge Factory
Enter to Win Our 3rd Annual
2016 Antique Tractor Photo Contest!
Contest Rules:
Step 1 – Like & Follow Us on Facebook.
Step 2 – In the comment section below the contest poster at the top of our Facebook page, add a photo of your favorite antique tractor. Please include the tractor year, make, and model in your comments. The tractor must be 1985 or older!!
Step 3 – Invite all of your Facebook friends to vote for your antique tractor, by "liking" your comment with your photo .
Step 4 – Check our Facebook page regularly to see how many people are voting for you!
Deadline to enter is Sunday, December 11, 2016 at 11:59 p.m. EST!
Last day to vote is December 14, 2016.
After we review all the votes, the winners will be announced on Sunday, December 18, 2016.
First Place Winner receives a Custom Engraved Magnetic 5″ x 8″ Tractor Display Sign. Second Place Winner receives a Custom Engraved Magnetic 4″x 8″ Tractor Display Sign. Third Place Winner will receive a Custom Engraved Magnetic 3″ x 6″ Tractor Display Sign.
Rules/Disclaimer: This promotion is open to those 18 and above in the United States. Void where prohibited. By participating, you are entering and agree to the terms that this promotion is in no way associated with, administered by, or endorsed by Facebook; and acknowledge a complete release of Facebook by your participation. You also acknowledge you own and have full rights to use this photo, as well as give us permission to use it in future advertising campaigns.
Save
Save
Save
Save
Save
Save
Save
Save
Save
Save
Save
Save