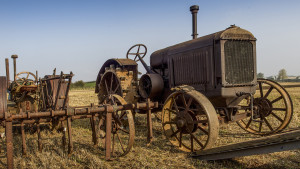 Here are five events for antique farm equipment enthusiasts coming up this weekend.  Below you will find events located in Florida, Indiana, Minnesota, North Carolina, and Ohio.  For more information about any of these events, just click on the red event title and a link to their site will open in a new window.  Enjoy!
FLORIDA
Florida Antique Power Club Great Engines of the Past Fall Show
11/21-11/22/2015
St. Petersburg, Florida
INDIANA
Mathes Estate Collection Personal Property Auction
11/20-11/21/2015
Corydon, Indiana
MINNESOTA
Doug Thompson Late Model Farm Equipment Auction
11/19/2015
Willmar, Minnesota
NORTH CAROLINA
Fall Big Boys Toys Auction
11/21/2015
Angier, North Carolina
OHIO
Farm Toy Show
11/22/2015
Urbana, Ohio
937-826-4201
**********
Would you like a weatherproof custom tractor display sign for your antique farm equipment?  We are happy to help you out!  Regular orders arrive in about 2 weeks, but if you need it sooner our rush order service will get it to you in about a week!   Click Here to place your order, or call us at 410-239-3368!