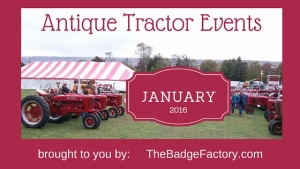 Here are seven events for antique farm equipment enthusiasts coming up this month.  Below you will find events located in Florida, Indiana, Ohio, Pennsylvania, South Dakota, and Texas.  For more information about any of these events, just click on the red event title and a link to their site will open in a new window.  Enjoy!
FLORIDA
Florida Flywheelers Antique Engine & Tractor Swap Meet
Fort Meade, Florida
January 13-16, 2016
INDIANA
Fort Wayne Farm Show
Fort Wayne, Indiana
January 12-14, 2016
OHIO
Ohio Power Show
Columbus, Ohio
January 28-30, 2016
PENNSYLVANIA
Blue Mountain Antique Gas & Steam Engine Assn.
Bangor, Pennsylvania
January 16, 2016
Pennsylvania Farm Show
Harrisburg, Pennsylvania
January 8-16, 2016
SOUTH DAKOTA
Sioux Falls Farm Show
Sioux Falls, South Dakota
January 27-29, 2016
TEXAS
Texas Antique Tractor Show and Pull Kickoff
Hallettsville, Texas
January 15-16, 2016
If you know of an event this month that we haven't included, feel free to post it in the comments area below, and share it with our readers!  If there is a future event you would like us to include, please contact us here!
Did you recently get an antique tractor, or finish restoring one?  Let us make you a beautiful, weatherproof custom tractor display sign for your antique farm equipment!  Regular orders arrive in about 2 weeks, but if you need it sooner our rush order service will get it to you in about a week.   Click Here to place your order, or call us at 410-239-3368!